In March 2015, Palomar Technologies acquired SST International, a turnkey supplier of vacuum and pressure furnaces for soldering, brazing, glass-sealing and wafer bonding of microelectronic packages and components. SST International, now known as SST Vacuum Reflow Systems, compliments Palomar's existing line of wire and die bonders to provide customers the premier "one-stop shop" for precision assembly and hermetic packaging of electronic components. So, how do Palomar and SST converge and compliment one another?
Die Bonding
Die attach, also known as die bonding, is the process of attaching (or bonding) a die (or chip) to a substrate, package or another die. This process can take on many forms and can be applied in many different ways. These differences are entirely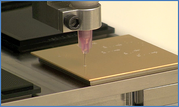 dependent on the desired application of the user.
Palomar systems and services generally provide two levels of attachment:
In these two categories, there are several degrees of attachment - different
specifications of materials present different challenges.
Pick-and-place methods are also employed in die attach. This is the method of picking a die from a location and placing it in its desired location; doing so precisely using fiducial or other markings on the die, often in a + or x pattern. In certain cases with complex die attach, double pick-and-place is required. This furthers the accuracy of the placement, but on the downside decreases the throughput.
Void-free die and substrate soldering, also known as eutectic die attach, is key to the reliability of many advanced microelectronic products. This assembly process is used when heat must be transferred away from the die or other critical components to avoid thermal failure. The presence of voids increases the die operating temperature by inhibiting efficient heat transfer through the thermal interface material (TIM). Voids may be created by flux residue, surface oxides, trapped gas and poor wetting.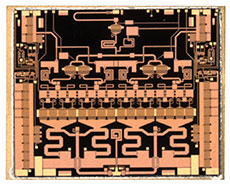 The Model 1200 Table Top Furnace, Model 3130 Vacuum Pressure Furnace, Model 3150 High Vacuum Furnace, and Model 5100 Vacuum Pressure Furnace are systems offered by SST that perform such void-free die soldering. SST's equipment and processes minimize voids through the precise control of vacuum levels, positive pressures and thermal profiles. Typical applications include the manufacture of monolithic microwave integrated circuits (MMICs), high power semiconductor modules, concentrated photovoltaic (CPV) solar cells, laser pump diodes, automotive rectifier diodes and microwave amplifiers.
SST Vacuum Reflow Systems also offer glass to metal sealing, hermetic package sealing, and high vacuum MEMS package sealing. From wire bonding to die bonding to void-free solder joints without flux, Palomar and SST deliver processes, systems, service, and solutions to meet your packaging needs.
3880 Die Bonder
Data Sheet

6500 Die Bonder
Data Sheet

SST 1200
Data Sheet

SST 3130
Data Sheet

SST 5100
Data Sheet

Void-Free/Flux-Free Technical Paper

----
Janine Powell
Marketing Specialist
Palomar Technologies, Inc.