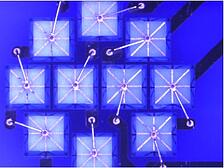 The rapid increase in the LED market (for notebook backlights, LED TVs and automobile headlights) is spurring heavy capital investments by LED manufacturers, primarily in the Asian regions: Korea, Japan and China. Nearly 135 billion high-brightness LEDs (HB LEDs) units shipped and 30 billion backlight LEDs units shipped in 2011, up from 100 billion and 20 billion in 2010, respectively.
South Korea's Samsung and LG have a broad range of LED lighting products for the domestic market and highly competitive pricing strategies. The South Korean government launched a new LED lighting adoption program as part of its nation-wide energy-saving program. The aim of this program is to achieve a 100% adoption rate for LED lighting in the Korean public sector and 60% penetration of all lighting applications nationwide by 2020. The government will fund $185 million through 2012 and 2013 to support energy-efficiency rebates.
In Japan, sales volume of LED light bulbs have already reached an adoption rate of more than 40% and are expected to exceed 50% in early 2012.
Among the three Asian countries noted above, China seems to be the most aggressive country in terms of driving the production, consumption and development of core technologies in LED chips. China currently obtains 80% of upscale chips overseas as local production is hindered by high equipment and raw material costs. For instance, MOCVD equipment—which is key to producing semiconductor lighting chip—is typically sourced from foreign providers such as Veeco in USA or Aixtron in Germany. A unit is valued at $2 million. To reduce the production cost of LEDs affected by high equipment costs, Huazhong Science University has reached an agreement with Guangdong Real Faith to develop the technology to produce semiconductor lighting chip equipment. The $77.5 million project is scheduled to begin trial operation in 2012.
Before local MOCVD equipment is available, the Chinese government has set up a stimulus program covering the acquisition of MOCVD machines. Initially, they extended a subsidy of about $1.2-1.5 million per unit to substantially reduce LED companies' equipment costs and to encourage procurement; therefore, increasing available domestic capacity. This program is an interim measure and would be terminated once local MOCVD equipment is ready. The objective is to encourage homegrown enterprises to venture into MOCVD production, which in turn, will minimize LED production cost. Until the goal is reached, lower tax rates, accelerated depreciation and free land will continue to be offered as support for companies importing MOCVD equipment. From purchases planned in the next few years, installed units are expected to surpass 1,200. By early 2012, the number should be between 700 and 800 (up from about 330 in 2010).
Today, China has more than 3,000 LED suppliers—with 2,000 in applications, 600 in packaging and more than 60 in wafer epitaxial and chip. Over 85% of the suppliers are based in the Pearl River and Yangtze River Delta regions, particularly in Shenzhen, Guangdong.
While production cost cutting is an important initiative, manufacturers have likewise introduced models boasting better performance and specifications. Beijing Leyard has launched large-size and high-brightness LED TVs, while Shenzhen Ledman unveiled its Black Beauty series with an enhanced contrast ratio. Shenzhen Unilumin, on the other hand, has improved the power-saving features of its LED display lamps.
Chinese manufacturers are also actively securing patents for their models. Applications have already reached more than 1,000 patent submissions, of which about 800 have been approved.
The Chinese Central Government's objective is to obtain five to six major Chinese players who can compete globally, including three to five flagship companies. China is projected to not only become a powerhouse in low-cost manufacturing by 2015, but also be the largest consumer of LEDs. There are about 50 large indoor and outdoor lighting projects already in place today.
By 2015, China intends its manufacturing standards to be globally viable for the volume production market and its LED lighting products to be 40% below the market price. China's LED industry is estimated to reach $75 billion by 2015. Over the 2010-2011 time frame, the industry was at about $18.7 billion. In terms of share, epitaxial chips have 70%, and packaging and application 10 to 20%, respectively.
Since mid-2009, the Chinese Central Government has had in place a substantial investment program—as have many local government authorities in China—focused on accelerating the development of a sustainable LED industry. Apart from their global commercial aspirations, Chinese organizations are also greatly motivated by the high potential of internal benefits that will arise from having access to energy efficient lighting. LEDs are a very prominent target technology in China's latest and twelfth five-year plan.
----
PH Chan钟碧和
Asia Pacific Director
Palomar Technologies (S.E. Asia) Pte Ltd
---
References
http://www.globalsources.com/gsol/I/LED-component/a/9000000117612.htm
http://www.compoundsemiconductor.net/csc/news-details.php?cat=news&id=19733892
http://www.compoundsemiconductor.net/csc/news-details.php?cat=news&id=19733854