Assistance with a bonder should not begin and end with its purchase. Such complex, sophisticated machinery requires support from experts that know the equipment, its capabilities, and its requirements. This is necessary to achieve maximum throughput and efficiency. Otherwise, what's the true value of a bonder that is functioning at only a fraction of its potential?
The individuals on the front lines working with customers to maximize their bonder's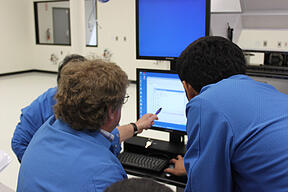 capabilities are vital to the uptime and performance of automated microelectronics production. These engineering experts are trained specifically to troubleshoot machines and to perform preventative maintenance and system health checks at the organization's site.
Meet Another Face of Excellence in Field Service Support
In line with this strengthening of the capabilities of Palomar, Mr. Scott Burri has been part of the Field Service Team in order to exceed the expectations of new and existing customers with their automated packaging equipment requirements.
Scott has been with Palomar for seven years while providing superior customer support with both service and applications needs worldwide, including coverage in Europe, Asia, and North America. His previous extensive industry experience includes companies such as Harris Semiconductor, SMP Electronics Automotive, Triton Network Systems developing RF solutions, and Harris Corporation with over 25 years of equipment maintenance and process development experience. These advanced skills and knowledge will be put to good use as he continues to build and strengthen the excellent relationships Palomar has with clients.
The addition of Scott to the Palomar customer service team has provided direct support and expertise to customers worldwide. It is important to provide a strong service and applications support system for each and every region of the world where customers reside, and Scott will further enhance the Field Service teams' commitment.
Want Better Throughput? Implement Bonder Best Practices.
Palomar Technologies is committed to extending the longevity and maintaining peak performance capabilities of all systems that leave our factory. The bonder buy-off process is the start of a strong partnership between Palomar Technologies engineers and your organization. Capital equipment investments will reach and maintain maximum production value through the implementation of bonder best practices:
• Enroll in Bonder Boot Camp Training Sessions – To continue production at your bonder's maximum performance capabilities, take advantage of offered training courses led by Palomar Technologies bonder experts, covering system operations, programming and proper maintenance.
• Maintain a Service Contract – Benefits of annual service contracts include three yearly preventive maintenance (PM) visits, emergency service calls with in-house bonder experts, discounted spare parts, priority overnight shipping of spare parts and bonder software updates (as needed). Annual service contracts are available to cover Field Services support visits once the first-year warranty expires.
• Upgrade to the Latest Software and Hardware – Outdated bonder software hinders the ability to run production at maximum capacity and accuracy, and may limit your eligibility for Field Services support. Ensure your production is running with the most recent software programs through a Bonder Performance Upgrade (BPU).
• Practice Preventive Maintenance – PTI PC Backup and Recovery is a proven safety net for production computer data should there be a program-based data corruption or loss. The PTI PC Backup and Recovery hardware system will reinstall all software and program data to have your bonder up and running within minutes. Investing in the PTI PC Backup and Recovery is nominal in comparison to the potential financial losses associated with disrupted production by limiting downtime to mere hours rather than days or weeks.
• Work with a Process Development Consultant – PDCs are your in-house resource to develop or optimize your production processes on your Palomar systems. PDCs are specially trained Palomar Technologies engineers with a complete knowledge of equipment, application processes and materials required to increase yield, throughput and equipment performance.
• Ask Questions. Reach Out to Palomar Customer Services – Palomar Technologies is committed to a strong partnership with your organization and is available to provide applications advice, industry insight and expertise to improve your bonding capabilities. Enroll in a Bonder Boot Camp maintenance or applications training sessions to sharpen your skill set to increase yields in a comprehensive and hands-on course.
----
Tim Hughes
Director of Global Customer Service
Palomar Technologies, Inc.