According to a recent Business Insider report, there are over 1.5 billion people in the world today using a smartphone, so it is safe to assume that you may be one of them. In fact, there is a high chance you are reading this very post from a device in the palm of your hand. Can you think back

to the day you received your smartphone and how foreign it must have seemed to you? This device can do so much, but how can you know about all of its capabilities without an instruction manual or a store to go to where you can speak to an expert about how to operate it? Imagine having no clue how to operate the device or use it to its full potential. Often times a sophisticated technology's performance is hindered by lack of training or not having access to an expert to guide you through efficient tips and tricks. This type of situation, in which performance was stunted by lack of training, is what a Palomar Technologies customer faced in the following case study with their die bonder.
Case Study: This company had purchased a die bonder back in 2006. The original person who was trained on the bonder left the company within a few years. In the fall of 2012, the customer contacted Palomar Technologies.
Issues: The basic problems that the customer was dealing with were the unfamiliarity with the proper programming and operation of the bonder, as well as experiencing epoxy dispensing inconsistencies.
Resolution: Palomar Technologies' Field Service team travelled to the company's site to provide the following products and services: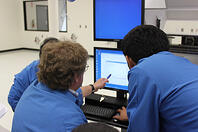 Bonder Performance Upgrade (BPU) to bring the computer hardware and software up to the latest configurations. Outdated bonder software hinders the ability to run production at maximum capacity and accuracy. You can ensure your production is running with the most recent software programs through a Bonder Performance Upgrade. The BPU offered customers continued product support, improvement in the ergonomics of the system and faster, more accurate pattern recognition. Palomar Technologies is continually improving performance and upgrading equipment operating systems. BPUs are available in retrofits or software upgrades. Make sure you are getting the best from your equipment with the latest capabilities.
Time Pressure Dispensing to more precisely meet the customer's dispensing requirements. The customer assessed that their current epoxy pump was "dripping" fluid from time to time. The viscosity of the materials they were dispensing was too low for the type of epoxy pump installed on their bonder. The design of Time Pressure Dispensers virtually eliminates dripping issues with low viscosity fluids.

The Dynamic Axis Correction option was added to increase the bonder's placement accuracy. Palomar offers Dynamic Axis Correction (DAC) hardware and software which will compensate for naturally occurring thermal growth which occurs in all machines. Heat can be generated from the machine internally or from the temperature of the room in which the bonder resides. This heat causes expansion of materials which, in turn, can cause slightly incorrect calibration on the bonder. DAC improves accuracy of lookup camera vision fiducial corrections, accuracy of die ejector needle location, and calibration of two-sided and four-sided pick tools. Thermal changes can affect a bonder's performance, but DAC can compensate for these changes.

Three weeks of onsite operators, maintenance and Process Development Consulting for both epoxy and eutectic die attach
PDC Benefits

Advanced training solutions through system and/or process optimization
Improved yields with enhanced automation/integration/new tooling and system option deployment coupled with proven processes and materials for the specific application
Increased throughput enabled by customized production support and process development
Process development, test and prototyping support from Palomar Technologies Process Development Consultants
Just as a smartphone user needs technical support, a bonder user needs bonder support. That phone might have been able to make the occasional phone call, but it wouldn't have been able to check email, give directions, surf the internet, or do any of the things it was truly meant to do properly without some guidance from a knowledgeable source.
----
Tim Hughes
Customer Services Manager
Palomar Technologies, Inc.