Multi-Chip Module packaging is an important facet of modern electronic miniaturization and micro-electronic systems. Demand for further miniaturization of consumer products, aerospace and defense systems, medical devices and LED arrays drive the need for compact packaging without performance disruption. The Multi-Chip Module (or MCM) package design supports multiple integrated circuits (ICs) to facilitate use as a single package.
MCMs differ depending on the complexity and development philosophies of their designers, and the needs of the customer or end user. For example, one customer may require pre-packaged ICs on a small printed circuit board, meant to replicate the package footprint of an existing chip package. Another customer may need a fully custom package that integrates many chips on a substrate.
By incorporating multiple ICs into a single device, MCMs offer benefits in device size and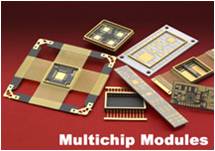 performance. By shortening the signal-path between ICs (significantly reduced inter-chip propagation delay), and using a common high-performance substrate material, MCMs can improve device operation while managing device size and weight constraints, in addition to reducing the power consumption of the package.
MCMs are classified by substrate:
MCM-C uses a ceramic substrate with wire bonding between the chips
MCM-D uses a dielectric layer over a ceramic, glass or metal substrate, and thin film interconnects are created on the dielectric layer
MCM-S uses a silicon substrate with tracks created in the silicon like regular ICs. Transistors can also be formed in the substrate.
MCM-L uses a laminated circuit board with up to 25 tracking layers. MCM-L evolved into the multichip module
Benefits of MCM Technology:
Lower power supply needed because of shorter interconnect lengths
Smaller overall packages; enables greater miniaturization
Greater reliability with decreased number of interconnects between components
Flexibility through integration of differing semiconductor technology
Faster time-to-market (ideal for products with short life cycles)
Simplification of complexity by putting several devices into a single package
Lower cost
Common Applications for MCMs:
RF Wireless Modules
Power Amplifiers
High Power Communication Devices
LED Packages
High Density Single Module Computers
Servers
Portable Electronics
Wearable Computers
Military and Space Avionics
Stacked Die Supported by Assembly Services
Die stacking—or 3D-IC packaging—is becoming more common among leading semiconductor manufacturers, despite considerable challenges as die stacking requirements become more complex.
Die stacking requires all known-good-die (KGD) to be thinned and bonded on top of each over in either an overhang pattern or a pyramid stacking. As a cost saver, most die stacking is typically wire bonded to form the interconnection within a standard package.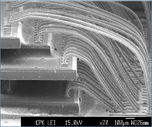 3D IC Pyramid Assembly Die Stacking with Overhang
Advantages of the high level of functional integration achieved by mixing complex semiconductor chips—such as a MEMS or silicon ASIC chips—with stacks of memory chips far outweigh the risk of needing to rework bad die or heat dissipation.
Palomar Technologies Assembly Services has performed precision contract manufacturing for stacked die assemblies of 25 and 40 die with epoxy attach processes while achieving placement accuracies of less than 10 microns in X, Y and Z position with near complete (>90%) epoxy coverage. Assembly Services has also performed 3 die stacks, wire bonded from stack to stack, as well as chain-bonded from stack to stack to stack with a single wire.
Learn More About Assembly Services and MCM Applications
Mixed Attachment Technology
Studies in RF & Optoelectronic
Packages Requiring High
Accuracy Placement Automating MEMS Packaging
----
Jessica Sylvester
Marketing Communications Manager
Palomar Technologies, Inc.