Why is high accuracy required? And why is high accuracy important? In the context of bonding directly to wafer, +/- 1.5um allows for "passive alignment" which eliminates the need for the more expensive and often time-consuming active alignment.
The kind of applications and processes that require this type of high accuracy assembly are eutectic and epoxy laser, LED, and other components such as photo-detectors, lenses, etc. We often get requests in this realm for encapsulation of the package. We must return to the question, "is encapsulation necessary?" The answer is often yes, but not always. For example, LEDs may require coatings for selective wavelengths and some circuits may require protection for the wire bonds. It really depends on the application and what is trying to be achieved.

Turning to wafer scale packaging of optical sub-assemblies, the benefit is realized in a more scalable package overall. For example, small die sizes can accommodate as many as 3000 sites on a single 6" wafer. A 6500 ultra high accuracy die bonder can automatically perform the high accuracy die attach portion of that entire wafer and prepare it for wire
bonding. The wafer is then moved to the 8000 wire bonder where the wire bonding takes place. If lens attach is required, the wafer goes back to the 6500. If encapsulation is required, the wafer then goes into the GPD precision dispenser where the entire package is sealed and encapsulated.
Why is Palomar's equipment and process expertise uniquely qualified to handle this type of process? Taking a larger view, it is because Palomar's specialty is large work area, deep access, and high accuracy. Additionally, with each of the bonders being SMEMA (Surface Mount Equipment Manufacturers Association) compatible, this entire process can be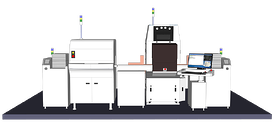 accomplished in an automated production line with integrated material handlers automatically feeding the machines (including 3rd party equipment such as the GPD dispenser or plasma cleaner). This allows Palomar to position a wide variety of wafers and substrates in our die and wire bonders up to 300mm square and do so at high throughput, high accuracy, and better yields.
----
Richard Hueners
Marketing & Systems Sales Manager
Palomar Technologies, Inc.