Factory automation is a cost-effective and resource-efficient solution for many complex microelectronic assembly challenges. Factory automation offers improved throughput and yield, often attributed to the reduction of direct employee contact with the assembly process. Precision robotic control combined with automated production line data monitoring reduces process variation and virtually eliminates assembly errors. Identification and tracking of assembly processes, materials, and production quality improve overall facility efficiency.
Form factor and presentation of materials—such as packages, substrates, and components—are easily applicable for factory automation through the implementation of industry standards such as SMEMA, JEDEC, and SEMI. Unique, custom, and application-specific presentation and assembly methods may be applied when necessary.
In microelectronics assembly, there are three common automation solutions:
Production Tooling and Fixtures—improve tooling requirements for your manual or automated part build recipe
Production Work Cell—one piece of equipment configured and tooled to build your assembly
Production Line—multiple distinct pieces of equipment linked together to provide distinct processes of your overall part build recipe
Of these three solutions, the latter two are commonly referred categories of factory automation for Islands of Automation and In-Line Assembly Systems.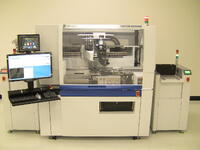 Islands of Automation – individual processes, such as component attach or wire bond, are performed within independent, automated work cells; the packages are fed automatically through the work cells via a system of process carriers (boats) and magazine handlers. The value of an island of automation is through greater production flexibility, faster product changeover, and often less integration time than an in-line system. However, assembly throughput is dependent upon scheduling separate operations and this configuration may require more labor or input/output process carriers to support independent work cells.
In-Line Assembly Systems – packages are fed automatically through the production line via a system of process carriers and magazines in the same way as an island of automation; however, the production line may require buffers to balance throughput and the production rate is fixed at the rate of the slowest process in the line.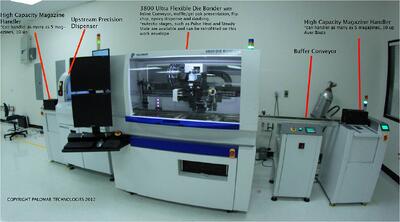 The value of an inline system is through higher volume, low-mix assembly of a single type of product with minimal or no product changeover and greater yield due to reduced operator contact with the product and materials. Since in-line assembly process operations run together as a whole production line, this configuration may require less labor to operate than islands of automation. A fixed production rate allows for more accurate production planning and potentially higher throughput. Larger assembly lines can take on such aspects as UV epoxy curing, ultra-high accuracy pick and place, heated tools for eutectic die attach, curing ovens, hot bars, precision dispensing systems, wafer die ejectors (punch ups), and customized presentation stages for odd-shaped devices.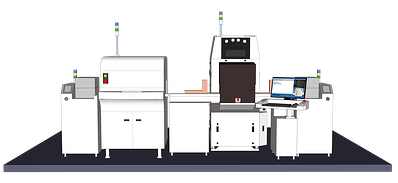 In performing complex microelectronics packaging, extreme precision and accuracy are imperative, in addition to repeatability and quality. Only an automated robot can handle an application at 1.5micron, 3-sigma output requirements. Because robots are automated and can "follow the rules" exactly each time, they are faster, more efficient, and create a higher quality package, thus ultimately lowering the cost of precision.
A Problem is Half Solved When it is Properly Defined
The goal of program management is to improve production flow so that assembly time is reduced and product quality, yield, and profit increases. Proper program management should define extensive options and solutions for all aspects of automating a production line build process, including but not limited to:
Project scope and expected outcome
Size and type of material
Methods and processes that can be implemented to achieve packaging solution
Parameters within the packaging process
Software options or customized software development
Standard or customized tooling required
Applications/process development needs
Delivery and installation of equipment at desired factory location
Learn More About Factory Automation Solutions
| | |
| --- | --- |
| The Value of Automation | Automating MEMS Assembly |
| Precision Assembly for High-Volume HB LEDs | Automated Hotrail RF Assembly |
----
Jessica Sylvester
Marketing Communications
Palomar Technologies, Inc.