Josef Schmidl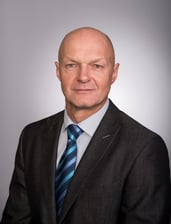 Josef Schmidl is the Managing Director of Palomar Technologies in Europe. Mr. Schmidl joined Hughes Aircraft in 1986 as a Service and Applications Engineer.
In 1995, Mr. Schmidl began work in sales for Palomar Technologies. Two years later he established Palomar GmbH in Erlangen, Germany, a wholly-owned subsidiary of Palomar Technologies. Since then, Mr. Schmidl has built Palomar GmbH into an organization that provides sales and service support to customers in Europe, Russia, the Middle East and Africa. He holds a degree in Electronics.
Mr. Schmidl resides close to Amberg, Germany, with his wife and three daughters.
Contact
Josef Schmidl, Managing Director
Am Weichselgarten 30 b
91058, Erlangen, Germany
Phone: 49 (9131) 48009-30
Fax: 49 (9131) 48009-55
Email: jschmidl@palomartechnologies.de