Ricardo Saldana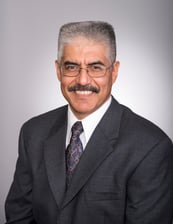 Ricardo Saldana began his career with Hughes Aircraft Company (now Palomar Technologies) in 1989 as an electrical engineer working on electrical and system designs for both the wire bonders and die bonders. Mr. Saldana was awarded the Hughes Aircraft Technical Achievement Award in 1992 for the infrared safety light curtain still in use on the 3500-R Die Bonder. He was promoted to engineering manager of the 2460 and 2470 in 1994.
Mr. Saldana earned his Professional Engineer license in 1994. In addition to being the engineering lead on the 2460 and 2470, he managed several key projects such as the creation of the 3470 (large area wedge bonder) in 1995, and several complex automation lines. He was promoted to program management in 2000.
Mr. Saldana successfully completed the Project Management certificate program through UCSD, and has earned the Project Management Professional certificate. Mr. Saldana earned his B.S degree in Electrical Engineering from San Diego State University in 1989. He currently lives in Oceanside, CA with his wife.