Bruce Hueners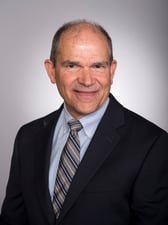 Bruce Hueners began with Hughes Aircraft (now Palomar Technologies) in 1981 where he collaborated in the development of laser interferometric measurement, die attach and wire bond systems and processes. Through the years, Mr. Hueners has held 98% of the positions in the company including: Head of Worldwide Sales, VP of Marketing and COO. Prior to his career at Hughes/Palomar, he worked as an Advanced Manufacturing Engineer with the Semiconductor Products Department at General Electric. There he developed mechanized processes for high volume optoelectronics assembly.

Mr. Hueners' extensive engineering knowledge includes microelectronic packaging and interconnects, microwave and RF, and optoelectronic applications. He has published more than 50 technical papers and serves on the editorial boards of several trade journals. Additionally, Mr. Hueners is a member of the U.S. District Export Council, the University of Southern California Engineering Advisory Board and the Cal State University San Marcos President's Council. He is the former Chairman of the San Diego World Trade Center, having participated on Board of Directors, Executive Committee. Over the past 20 years, Mr. Hueners has participated on many international trade panels, including those on USA-China business relations.

Mr. Hueners received his B.S. Degree in Mechanical Engineering from the University of Southern California, an MBA from Indiana University, and a Certificate from the Executive Program for Scientists & Engineers at UCSD. He is a member of IMAPS, SMTA, IEEE, and the Optical Society of America. A retired Marine Corps Lieutenant, Mr. Hueners resides in Carlsbad, CA.