Carlsbad, CA – October 7, 2014 – Palomar Technologies, the world-leading provider of precision microelectronics and optoelectronic packaging systems, today announced product demos at the IMAPS 47th International Symposium on Microelectronics. The 8000i Wire Bonder with Intelligent Interactive Graphical Interface® (i2Gi®) will be showcased through live demonstrations in booth #221 on October 14-15 at the Town and Country Resort & Convention Center in San Diego, CA.
The 8000i Wire Bonder comes equipped with i2Gi technology. It is a fully automated thermosonic high-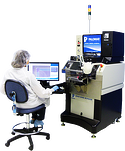 speed, ball-and-stitch wire bonder capable of ball bumping, stud bumping, wafer bumping, chip bumping, and customized looping profiles. As the assembly method of choice for first level interconnection, it is suitable for many aspects of packaging and component assembly, including complex hybrids, MCMs and high-reliability devices. The 8000i is versatile, powerful and can provide specialized functions in addition to its primary functions, such as fully automated hybrid production lines. It is designed for scalability in automated factory production of complex/high-mix microelectronic device packaging.
Professional Development Courses and Technical Program
In addition to the exhibits, the symposium will feature exciting keynotes, industry panels, and technical speakers on "The Future of Packaging". This forum is the largest exchange of technical information and industry leaders, encompassing 3 days, 28 sessions and 190 speakers on microelectronics, assembly, interconnect and packaging. Some of the Professional Development Courses that are being offered include: Introduction to Microelectronics Packaging, Wire Bonding, MEMS and nanoMEMS Devices and Applications, and Packaging and Testing of Implanted Medical Devices (just to mention a few). For more information on the PDCs being offered or the symposium itself, go to www.imaps2014.org.

Also, don't forget to grab a delicious treat during the Dessert "Happy Hour" Tuesday from 3:25-4:30pm that is sponsored by Palomar Technologies!
About Palomar Technologies
Palomar Technologies, a former subsidiary of Hughes Aircraft, is the global leader of automated high-accuracy, large work area die attach and wire bond equipment and precision contract assembly services. Customers utilize the products, services and solutions from Palomar Technologies to meet their needs for optoelectronic packaging, complex hybrid assembly and micron-level component attachment. For more information, visit www.palomartechnologies.com.
###
Contact
Claudia Salerno
Marketing Communications Manager
Palomar Technologies, Inc.
csalerno@bonders.com | +1 760-931-3681