Carlsbad, CA – March 17, 2014 – Palomar Technologies, the world-leading provider of precision microelectronics and optoelectronic packaging systems, announced today the live demonstration of the 8000i Wire Bonder at SEMICON China 2014. SEMICON China is celebrating its 26th year, held this year at the Shanghai New International Expo Center on March 18-20.
Palomar Technologies' new 8000i Wire Bonder comes equipped with i2Gi® technology. The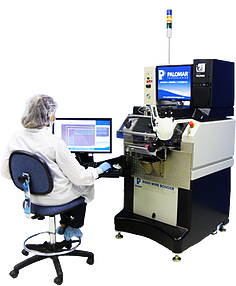 8000i Wire Bonder is a fully automated thermosonic high-speed, ball-and-stitch wire bonder capable of ball bumping, stud bumping, wafer bumping, chip bumping, and customized looping profiles. As the assembly method of choice for first level interconnection, it is suitable for many aspects of packaging and component assembly, including complex hybrids, MCMs and high-reliability devices. The 8000i Wire Bonder is versatile, powerful and can provide specialized functions in addition to its primary functions, such as fully automated hybrid production lines. The 8000i Wire Bonder is designed for scalability in automated factory production of complex/high-mix microelectronic device packaging.
Intelligent Interactive Graphical Interface (i2Gi) on the new 8000i Wire Bonder
i2Gi (cleverly pronounced "iggy") is an unparalleled feature implemented on the new 8000i Wire Bonder and is available as a Bonder Performance Upgrade (BPU) for existing 8000 Wire Bonders. i2Gi offers the required management tools for modern wire bonding, from part design and development, to process validation, and finally to intuitive operations control to support automated complex microelectronics packaging and production. i2Gi enables wire bond programmers and operating technicians to work smarter, faster and with more control. Bonder program developers and operators experience real-time bonding and part quality validation.
| | |
| --- | --- |
| 8000i Data Sheet | i2Gi Data Sheet |
i2Gi supports modern automated wire bonding for complex hybrid production. Watch the video:
An 8000i Wire Bonder will be available for live demonstrations throughout the duration of SEMICON China in the Asia Science & Technology (AST) booth #3287 with supplemental information about our 3800 Die Bonder available also in the BE FIRST booth #3703. Mr. PH Chan, Palomar Technologies Asia managing director, will be onsite at the show to discuss automated wire bonding, die attach and full factory automation requirements. The Palomar Asia office may also be contacted online: http://www.palomartechnologies.com/contact-palomar-technologies-asia/.
About Palomar Technologies
Palomar Technologies, a former subsidiary of Hughes Aircraft, is the global leader of automated high-accuracy, large work area die attach and wire bond equipment, and precision contract assembly services. Customers utilize the products, services and solutions from Palomar Technologies to meet their needs for optoelectronic packaging, complex hybrid assembly, and micron-level component attachment. For more information, visit www.palomartechnologies.com.
###
Contact
Janine Hueners
Marketing Communications, Palomar Technologies
jhueners@bonders.com | +1 760-931-3680