Rich Hueners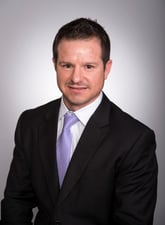 Rich Hueners began his career at Paradigm Talent Agency in Beverly Hills, California in 2001. During his tenure, he represented a variety of well-known motion picture and television actors, as well as led sales and negotiations on behalf of clients to major motion picture and television studios. He was the driver of a key effort to develop and establish higher return-on-investment ventures, which the agency still enjoys today. In 2009, he left the agency to join Palomar Technologies' Marketing Communications team based in Carlsbad, California. In 2010, he was promoted to Product Marketing Manager, in 2011 to Marketing and System Sales Manager, and in 2017 to Vice President of Sales and Marketing (worldwide) and Director of Palomar Technologies (SE Asia) Pte Ltd. Under his leadership, Palomar has achieved successive years of growth and expansion worldwide.
Rich relocated to Asia in 2013 to lead the worldwide sales and marketing team from Palomar's wholly owned subsidiary, Palomar Technologies (SE Asia) Pte Ltd, based in Singapore. This was a result of his dedicated effort to be closer to Palomar's fastest growing customer base.
Rich currently resides in Singapore and is a member of SEMI, IMAPS and the American Chamber of Commerce in Singapore. He earned his degrees at the University of Southern California's Marshall School of Business and the School of Cinematic Arts.
Contact
Rich Hueners, VP of Sales and Marketing (worldwide),
Director of Palomar Technologies (SE Asia) Pte Ltd.
8 Boon Lay Way #08-09
Tradehub 21
Singapore 609964
Tel: +65 6686 3096
U.S. mobile: +01-760-814-9310
Singapore mobile: +65 9728 4988
Email: rhueners@bonders.com