CARLSBAD, CA – February 4, 2014 – Palomar Technologies, the world-leading provider of precision microelectronics and optoelectronic packaging systems, today announced microelectronic packaging training courses to be presented by TJ Green Associates at the Palomar Technologies (SE Asia) Pte Ltd. facility in Singapore on February 24-28.
TJ Green Associates LLC is once again proud to present an entire week of public courses as part of the 2014 Singapore training event. Based on their success from last year, TJ Green Associates LLC will again conduct professional state of the art training classes focused on microelectronics packaging in Singapore. Train with TJ Green LLC during the day, and enjoy
the beautiful city of Singapore at night. The Singapore Course Outlines & Registration Form can be found here.
The course offerings include:
Process Certification For Hybrids, Microcircuits and RF Microwave Modules
Monday Feb 24 - Wednesday Feb 26, 2014
This process certification training is a must for quality, process, manufacturing engineers, designers and senior technicians and ideal for inspectors and line operators looking to broaden their knowledge base and understanding of the materials and processes used to assemble Hybrids, Microcircuits and RF Microwave Modules for high reliability Military and aerospace applications. Trained instructors with years of industry experience deliver the material in a straight-forward and easy to understand format. This fast-paced condensed 3 day course emphasizes the inspection criteria along die bond, wire bond, hermetic seal and testing and associated good manufacturing practices.
Wire Bonding Theory & DOE (Design of Experiments)
Thursday Feb 27, 2014
This is an intense one day course that covers the theory and practical aspects of forming a wire bond interconnect. Special emphasis is placed on the materials, processes and statistical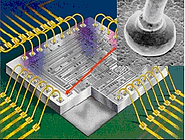 methods used to optimize process yields. The necessary steps to properly conduct a controlled DOE to optimize the wire bond parameter settings along with actual DOE case studies will be reviewed and discussed in detail as the instructor shares his personal experience with performing wire bond DOEs in a classroom setting.
Pre Cap Visual Inspection Per Mil-Std-883
Friday Feb 28, 2014
Hybrids/MCMs/RF Microwave Modules all require a visual inspection step just prior to encapsulation or hermetic seal. This is a critical process step that requires a high degree of

skill and understanding of what to look for and reject as part of the inspection process. This course defines the inspection criteria based on traditional Mil Spec requirements in conjunction with industry accepted best commercial practices.
About TJ Green Associates
TJ Green Associates LLC provides teaching and consulting services to companies around the world with expertise in hermeticity, materials and processes used to assemble hybrids, microcircuits, multichip modules, RF/MMIC microwave modules, MEMS, Class III medical implants, optoelectronics, and other types of packaged microcircuits.
About Palomar Technologies
Palomar Technologies, a former subsidiary of Hughes Aircraft, is the global leader of automated high-accuracy, large work area die attach and wire bond equipment, and precision contract assembly services. Customers utilize the products, services and solutions from Palomar Technologies to meet their needs for optoelectronic packaging, complex hybrid assembly, and micron-level component attachment. For more information, visit www.palomartechnologies.com.
###
Contact
Janine Hueners
Marketing Specialist
Palomar Technologies, Inc.
jhueners@bonders.com | +1 760-931-3680