Carlsbad, CA – July 3, 2012 – Palomar Technologies, the world-leading provider of precision microelectronics and optoelectronic packaging systems, today announced the company will be exhibiting live demonstrations on the 3800 Die Bonder and 8000 Wire Bonder at SEMICON West 2012, July 10-12 in San Francisco, CA, in booth #6157.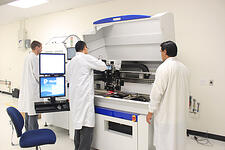 The 3800 Die Bonder demonstration will reveal a fully automated component attach program highlighting the flexibility and high precision of the sub-5μm placement accuracy (application dependent) die attach system. The 3800 Die Bonder has a large 35.5" x 20" large work area to accommodate various presentation tools, a steady state and a pulsed heat system for eutectic bonding, multiple dispense technologies, die ejectors and Cognex Vision System on a single platform. The sturdy mechanical structure, process camera, quiet linear motors, 0.1μm linear XY encoders and direct measure 0.00023 degree rotary encoder are some of the sophisticated features available on this ultra-flexible die attach system.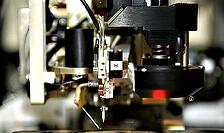 The 8000 Wire Bonder will feature a fully automated wire bond, stitch-bond, chain bond and ball bump demonstration program, showcasing the bonder's diverse application packaging capabilities. A ball bumper and stud bumper configuration of the 8000 Wire Bonder is a unique feature of this system—the wire bonder is the only available system that can produce co-planarized gold bumps in one step. The 8000 Wire Bonder is capable of deep access wire bonding up to 13.5mm. This fully automatic, thermosonic, high-speed ball-and-stitch gold bumper improves production yields and eliminates sources of variation in microelectronics packaging processes.
Palomar Technologies Assembly ServicesTM ("Assembly Services") is the contract assembly, process development, test and prototyping division of Palomar Technologies, ensuring strict IP protection, in-house highly skilled engineering staff and technicians, and a product suite of high-reliability, ultra high-accuracy advanced packaging systems. Assembly Services' example capabilities—including flip chip, wafer level packaging, pick-and-place, deep access wire bonding and complex packaging processes—will be headlined throughout the Palomar Technologies exhibit space.
Palomar Technologies is accepting meeting requests throughout the duration of SEMICON West 2012. Requests may be submitted online at www.palomartechnologies.com/contact-us.
About Palomar Technologies
Palomar Technologies, a former subsidiary of Hughes Aircraft, is the global leader of automated high-accuracy, large work area die attach and wire bond equipment and precision contract assembly services. Customers utilize the products, services and solutions from Palomar Technologies to meet their needs for optoelectronic packaging, complex hybrid assembly and micron-level component attachment. For more information, visit www.palomartechnologies.com.
###