Carlsbad, CA – September 3, 2013 – Palomar Technologies, the world-leading provider of precision microelectronics and optoelectronic packaging systems, today announced live demonstrations of new products and solutions at SEMICON Taiwan 2013, held in Taipei on September 4-6 at the TWTC Nangang Exhibition Hall.
SEMICON Taiwan 2013 will spotlight the latest developments in processes, equipment, materials, and emerging market opportunities in microelectronics manufacturing from more than 650 exhibiting companies and more than 50 hours of technical and business forums.
The technical programs will be supported by specialized exhibit theme pavilions focused on critical manufacturing technologies and markets, including:

Taiwan is situated in the strategic location of the world's IC packaging and testing industry, with some of the world's largest packaging and testing companies, reaching a global packaging and testing foundry market share of over 50%. According to an ITIS second quarter forecast this year, the Taiwan IC packaging and testing industry will significantly grow by 15.5%, and the driving force is due to growing demands from the networking, graphics, wireless, computing device, and mobile handsets markets.
[read more: http://www.semi.org/en/node/46661]
"While the global market is looking towards recovery in 2014, Taiwan is building its strength and growing now," said Terry Tsao, president of SEMI Taiwan. He adds, "New electronic products and technologies, including mobile devices and 3D printing, are creating entirely new opportunities for microelectronics and driving the need to push the limits of Moore's Law to enable the next generation of innovations. The technologies, companies, and people that will get us there are the highlight of SEMICON Taiwan".
[read more: http://www.semi.org/en/node/46201]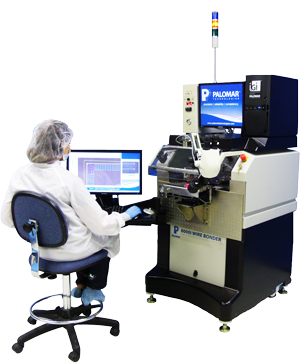 Palomar Technologies will demo the new 8000i Wire Bonder with Intelligent Interactive Graphical InterfaceTM (i2GiTM) technologies with Supremetec Materials, Inc. (SMI), booth #41. In addition, Palomar Technologies'product and solution portfolio will be showcased with Taiwan Kong King (TKK), booth #516.
i2Gi supports modern automated wire bonding for complex hybrid production. Watch the video:
Palomar Technologies recently announced the opening of its new demonstration and applications development office, located in Singapore.
Contact Palomar Asia for tours, demonstrations and training courses.
Palomar Technologies (S.E. Asia) Pte Ltd
8 Boon Lay Way #08-09
Tradehub 21
Singapore 609964
Tel: (+65) 6686-3096
Contact online: http://www.palomartechnologies.com/contact-palomar-technologies-asia
###
Palomar Asia Contact
Mr. PH Chan
Managing Director
phchan@bonders.com
(+65) 6686-3096
Palomar Technologies Media Contact
Mrs. Jessica Sylvester
Marketing Communications Manager
jsylvester@bonders.com
+1 (760) 931-3681