Carlsbad, CA – October 27, 2015 – Palomar Technologies, the world-leading provider of precision microelectronics and optoelectronic packaging systems, today announced that it will be exhibiting at the IMAPS 48th International Symposium on Microelectronics. Visit us at booth #511 on October 27-29 at the Rosen Center Hotel in Orlando, Florida to learn more about our products, including the NEW 3880 Die Bonder.

The 3880 Die Bonder is an ultra-versatile, ultra-flexible die bonder with an all new Z-theta bidirectional bond head with voice coil technology. The 3880 can solve various applications challenges: MEMS, HB/HP LED assembly, RF power amplifiers, and microwave modules. Read more about the 3880 and view more applications examples here.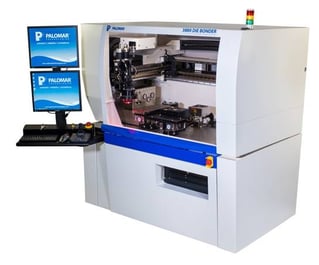 Technical Programs
In addition to the exhibits, the symposium will feature exciting keynotes, industry panels, and technical speakers on "The Future of Packaging". This forum is the largest exchange of technical information and industry leaders, encompassing 3 days, 30 sessions, 5 keynote speakers and 160+ speakers on microelectronics, assembly, interconnect, and packaging. Our own Chief Technical Officer, Dan Evans, will be presenting on copper wire refinements and alternatives at a technical session on Wednesday. For more information on the conference and the other technical sessions being offered, go to www.imaps2015.org.
Also, don't forget to grab a delicious treat during the Dessert "Happy Hour", sponsored by Palomar Technologies, Tuesday from 3:15-4:15pm.
About Palomar Technologies
Palomar Technologies, a former subsidiary of Hughes Aircraft, is the global leader of automated high-accuracy, large work area die attach and ball and wedge wire bonding equipment and precision contract assembly services. Customers utilize the products, services and solutions from Palomar Technologies to meet their needs for optoelectronic packaging, complex hybrid assembly and micron-level component attachment. For more information, visit www.palomartechnologies.com.
###