Microelectronic programs come with many forms of risk. If the design is manufacturable, the list is reduced, but a number of items still pose a company risk. These are mainly time to market issues, but throughput, reliability, and yield also come into play as unknowns.
Palomar Technologies offers a unique response to these risks. We call the team that provides these solutions Palomar Technologies Assembly Services. They are a group of engineers and technicians that work in our clean rooms, and provide this valuable service for our customers.
Assembly Services offers our clients new process development, DOE's, rapid prototyping, and small to medium volume contract manufacturing. Part of this offering is guiding the customer and their designs into the most favorable position for manufacturing--drawing on hundreds of man-years of experience from their careers in micro/optoelectronics and our Engineering and Applications Engineering departments.
We have always provided complete solutions to complex requirements, not just equipment. Over a decade ago, we determined that our customers could use assistance in that last 5% of a project. Assembly Services was born, and they are a differentiating and valuable portion of our total solution portfolio.
The short list of variables that generate risk boils down to:
Optimizing a design and materials to maximize manufacturing output

Process Development - which drives throughput and yields
Custom tooling (as required)
Palomar focuses mainly, but not exclusively, on die attach and wire bonding. Our most fundamental systems are our 3800 Die Bonder, an ultra-flexible automated component placement system:
and our 8000i Automatic Gold Ball Bumper/Ball Wire Bonder: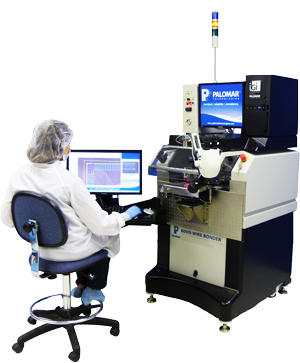 When a customer comes to us with their packaging challenge, we go into action.
We carefully review the customer's prints and specifications, and engage in an interaction that assists us in providing process optimization. This includes material selections and custom tooling.
This is when the fun begins. We start out by proposing a plan to address the three fundamental risks described above. This includes designing and fabricating tooling and agreeing on a pathway to a high throughput, high yielding program. This process generates a number of prototypes that the customer then examines for compliance, and measures fitness. If any deficiencies are determined, we make adjustments and do it again. Once this process generates high reliability packages, we focus on throughput and yield. During this process, tooling is hardened and the end result is a completely understood solution. We know down to a millisecond how quickly the devices can be built, we know our yields, and we know the solutions reliability.
This can be accomplished in conjunction with a capital equipment purchase, or strictly as contract manufacturing. If you are purchasing equipment, when the systems are ready to go we transfer your tooling and programs directly to your units, and begin Acceptance Test Procedures and training. If you need product to deliver during the system builds and commissioning, Assembly Services can provide that concurrently.
Palomar's Assembly Services addresses each of these risk categories as required and/or desired.
Let's begin to discuss how we can assist you and your company by mitigating risk, and speeding time to market with your new or existing projects.
----
Bradley K. Benton
Western Regional Sales Manager
Palomar Technologies, Inc.